Chronic pancreatitis
Chronic pancreatitis is the most common cause of PEI – 80 to 90% of these patients will have some degree of PEI.1 In patients with chronic pancreatitis and PEI, digestive lipase output has been shown to be about 2.5 IU/min – less than 0.2% of normal (3,000 IU/min).1 In order to avoid steatorrhoea, lipase secretion of greater than 5 to 10% of normal is needed, precipitating the need for effective Pancreatic Enzyme Replacement Therapy (PERT).1
Creon® has been shown to improve symptoms associated
with PEI
Creon improved the following symptoms at 1 week and at 52 weeks versus baseline:2,3*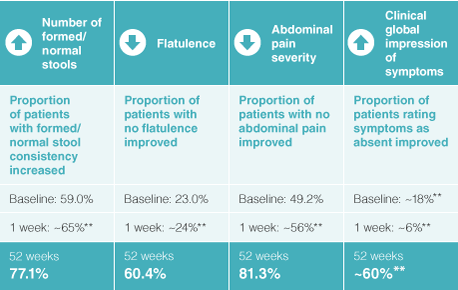 Adapted from Thorat V et al. Aliment Pharmacol Ther 2012; Ramesh H. et al. Pancreatology 2013.
There were also significant improvements at 52 weeks in coefficients of fat absorption (CFA) and nitrogen absorption (CNA) versus baseline:3

*1 week double-blind, randomised, placebo-controlled, parallel-group, multicentre study in India. Patients ?18 years with proven chronic pancreatitis and PEI (N=62) were randomised 1:1 to Creon 40,000 or placebo (two capsules orally per main meal, one with snacks). The primary outcome measure was change in the coefficient of fat absorption (CFA) from baseline to the end of double-blind treatment (analysis of covariance). 51-week open-label extension (OLE): patients received Creon 40,000 at a dose of 80,000 lipase units per main meal and 40,000 lipase units per snack. Clinical symptoms and CGI: reported by patients and assessed by investigators at baseline, the end of the double-blind phase and at weeks 5, 13, 26, 39 and 52. Quality of life: assessed with the SF-36
®
Health Survey questionnaire at baseline, end of double-blind phase, and at study end. The SF-36
®
comprises eight component scores and two summary scores, with higher scores indicating better quality of life.
**Values are estimations taken from graphs within the published paper as exact values unpublished.
Creon has been shown to significantly improve patients' nutritional status3*
Several nutritional parameters significantly improved from baseline in patients with chronic pancreatitis.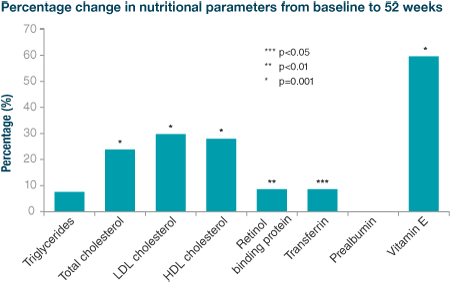 Adapted from Ramesh H. et al. Pancreatology 2013
Dose of 80,000 lipase units/meal; 40,000 lipase units/snack; 6-9 capsules per day.
Creon has been shown to improve quality of life as measured by the SF-36® Health Survey questionnaire3
At 52 weeks, patient quality of life had improved from baseline with statistically significant changes in:
bodily pain
general health
vitality
emotional well-being
mental health
mental component summary.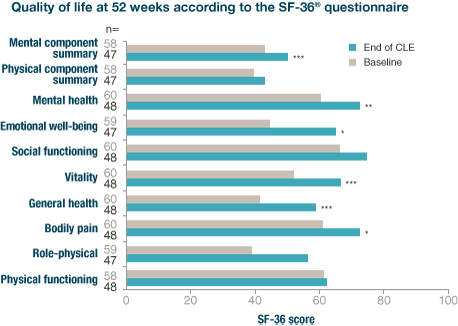 ***p=0.001 vs. baseline; **p<0.01 v. baseline; *p<0.05 vs. baseline.
Adapted from Ramesh H et al. Pancreatology 2013
OLE: Open-label extension – 52 weeks.
References
Keller J et al. Gut 2005; 54(Suppl6): 1-28.
Thorat V. Aliment Pharmacol Ther. 2012; 36(5): 426-36.
Ramesh H. Pancreatology 2013; 13: 133-9.
Imrie CW et al. Aliment Pharm Ther. 2010; 32(Suppl1):1-25