Cystic fibrosis
Studies have shown that PEI occurs in more than 85% of patients with cystic fibrosis.1 Malnutrition and growth retardation are important prognostic factors in children with cystic fibrosis and both may adversely affect the course of the disease with declining lung function and poor outcomes.2 Population-based studies in both adults and children with cystic fibrosis have shown a clear association between normal growth status and both pulmonary function and survival.3
Adult cystic fibrosis and PEI
Following a parallel design of 2 randomised placebo-controlled studies with an open-label run-in-phase whereby all patients were stabilised on Creon®, patients who were then randomised to Creon® experienced positive improvement in the mean coefficient of fat absorption (CFA), unlike those randomised to placebo, whose mean CFA decreased significantly (p<0.001).4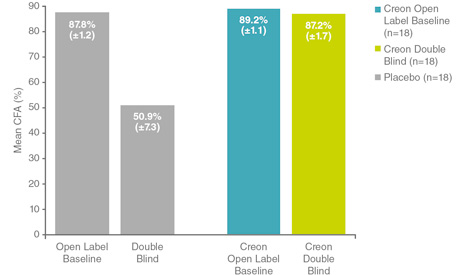 Dose of pancreatin: 4537.8 mean lipase units/kg/day.
Adapted from Stern RC et al. Am J Gastroenterol 2000.
In the open label run in phase, 50 patients with PEI were stabilised on Creon
®
and a high-fat diet (target of 100 g fat/day). They could adjust their Creon
®
dose to optimise digestion. 36 eligible patients with >80% CFA who were on a controlled high fat diet for 6 days proceeded to the double-blind phase and were randomised (1:1) to continue with Creon
®
or switched to placebo. During double-blind treatment, placebo patients received the number of capsules equivalent to the actual mean lipase dose of 5107.0 U/kg/day and Creon
®
patients received 4537.8 mean lipase U/kg/day.
Infant and child cystic fibrosis and PEI
In infants with cystic fibrosis aged 1 to 24 months, Creon® produced a rapid improvement in mean coefficient of fat absorption (CFA).2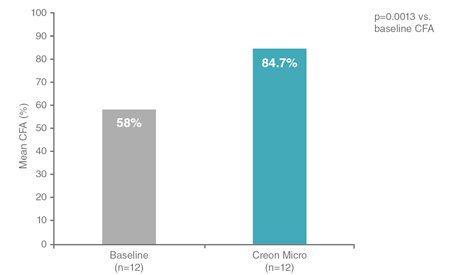 CFA:Coefficient of fat absorption
Adapted from Colombo C et al. Pancreas 2009.
Multicentre, open-label, single arm, eight-week study in 12 babies < 24 months. CFA was measured after two weeks of treatment based on 72-hour fat assessments. Patients' weight and height increased after eight weeks of treatment. Creon
®
Micro 5000 units was provided but individual patient doses were based on dietary fat intake. Daily doses of 2000 u/g fat were recommended but higher doses were administered in two patients who were taking a higher dose of PERT before enrolment.
Furthermore, treatment with Creon® Micro was found to:2
increase length and weight over 8 weeks
decrease the proportion of patients with steatorrhoea from 100%

to 58%

at 2 weeks
increase the number of patients with normal stool characteristics

at 2 weeks

reduce mean faecal energy loss at 2 weeks
References
Littlewood JM et al. Pediatric Pulmonology 2006; 41: 35-49.
Colombo C et al. Pancreas 2009; 38: 693-9.
Stallings VA et al. J Am Diet Assoc. 2008; 108: 832-9.
Stern RC et al. Am J Gastro 2000; 95(8): 1932–1938.