Dosing and Administration in Adults
Dosing & administration in adults
The recommended starting dose for adults is 2 x Creon® 25,000 per meal and 1 x Creon® 25,000 per snack with subsequent titration depending on level of response.
While different patients may have the same or similar starting doses, the dose should be titrated according to the individual's response and experience. Initially one or two capsules with each meal. Dose increases, if required, should be added slowly, with careful monitoring of response and symptomatology.1,4-6
The correct dose is that which successfully controls bowel symptoms and maintains good nutritional status in the individual patient which successfully controls.7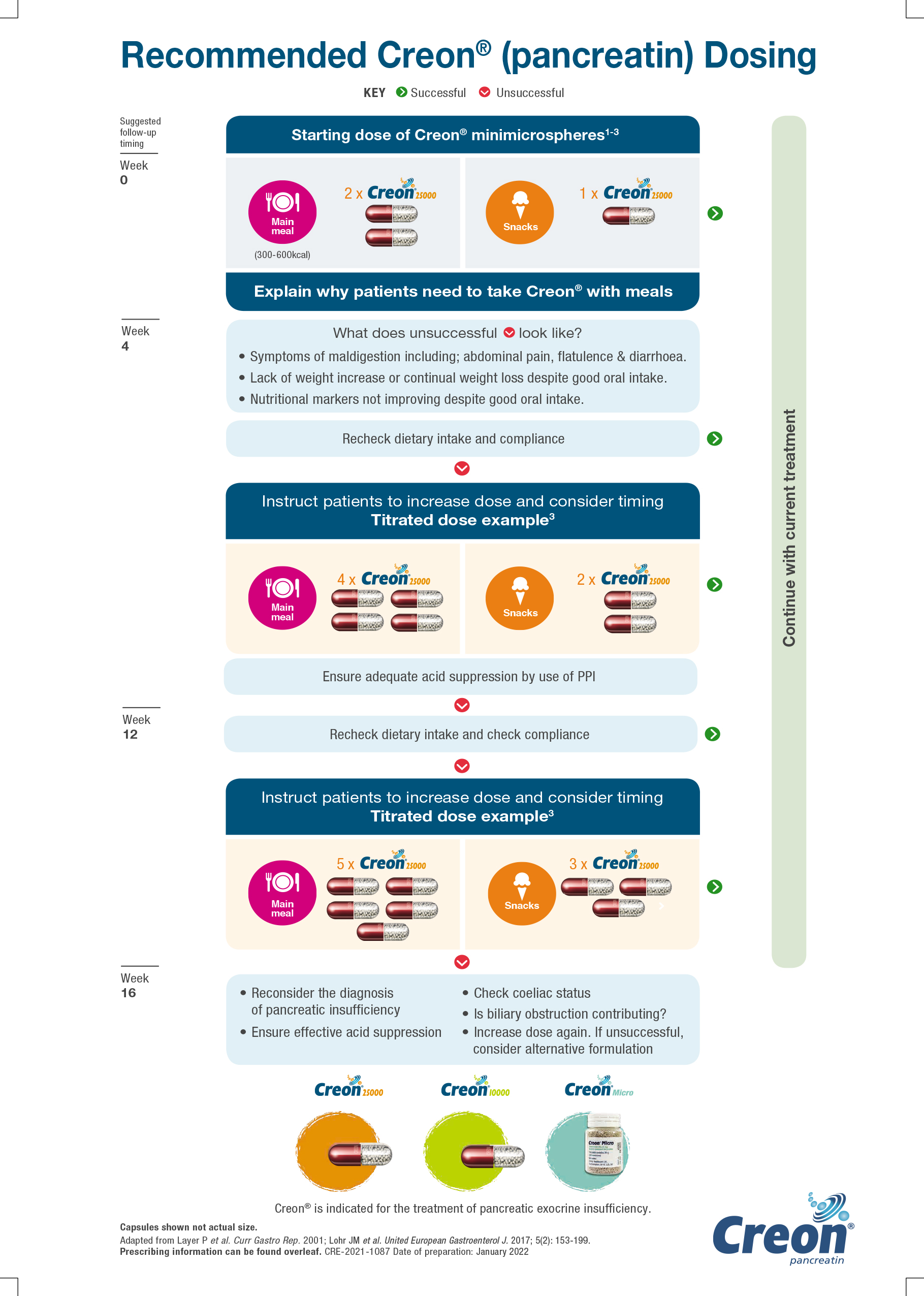 A range of support materials are available, which includes a simple grid like the one shown below. This dosing grid can help you to set a patient's Creon® dose and also help with compliance during meal time.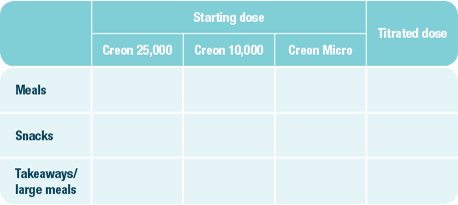 Special circumstances
Any abdominal symptoms not usually experienced by the patient or changes in abdominal symptoms should be reviewed to exclude the possibility of fibrosing colonopathy, especially if the patient is taking more than 10000 units of lipase/kg/day.1
Administration
Creon® capsules can be:
swallowed whole or
opened to mix the granules with acidic fluids or soft food1
If the granules are mixed with fluid or food, advise your patients to take them immediately and to not crush or chew the granules in order to prevent the enteric coating from dissolving.1
Always take with food: Creon® needs to be taken with meals or snacks so that the pancreatic enzymes can mix with food and become activated when the chyme reaches the duodenum.1
Keep hydrated: Also advise your patients to be adequately hydrated at all times whilst dosing with Creon®. Inadequate hydration may aggravate constipation.
Monitor symptoms: It is important to educate patients to monitor their symptoms and follow them up within 2 weeks to establish their individualised dose.
For larger meals: For large meals with more than two courses, or one lasting more than half an hour, patients may benefit from splitting the dose and taking some capsules at the beginning and some mid-meal.2,3,6,8
For fatty meals: When a patient eats a particularly fatty meal, encourage them to increase the number of capsules they take.
References
Creon® 25000 Summary of Product Characteristics. 2019.
Keller J et al. Gut 2005; 54(Suppl6): 1-28.
Lohr J-M et al. United European Gastroenterol J. 2013; 1(2): 79-83.
Dominguez-Munoz JE et al. Curr Opin Gastroenterol 2018, 34:349-354.
Layer P et al. Curr Gastroenterol Rep 2001; 3: 101-108.
Imrie CW et al. Ailment Pharmacol Ther. 2010; 32(Suppl1): 1-25.
Domínguez-Muñoz JE et al. Adv Med Sci. 2011; 56(1): 1-5.
Dameria V et al. J Support Oncol. 2008; 6: 393-6.
It's important to follow up and review the patient to ensure symptoms are controlled and nutritional status restored.