Introduction to Effective Dosing
Introduction to Effective Dosing
In order to achieve the most effective dose for your patients with Pancreatic Exocrine Insufficiency (PEI), a Pancreatic Enzyme Replacement Therapy (PERT) must be able to mimic the physiological conditions of a healthy pancreas. As a result of 100 years of ongoing research and refinements and the launch of Creon®'s unique minimicrospheres in 1993, Creon®'s mode of action closely mimics the physiological process of enzyme delivery. Hence, the correct amount of pancreatic enzymes are delivered to the duodenum intact, where they can be activated with food prior to absorption.
PEI patients are at risk of fat-soluble vitamin deficiencies and malnutrition related complications1, including:
reduced quality of life2
reduced bone mineral density3
cardiovascular events1,4
Normal Pancreatic Exocrine Response
Following a meal pancreatic enzymes are secreted into the duodenum. Approx. 720,000 lipase units are produced per 300-600 kcal meal. The caloric content, nutrient composition and physical properties of a meal influence the degree and duration of the enzyme response.
Steatorrhoea occurs when over 90% of normal enzyme secretion is lost. Therefore, steatorrhoea is a symptom of severe PEI.5
Lipase secretion by a healthy pancreas in response to a stimulus of a 300-600 kcal meal
Adapted from Keller J et al. Gut 2005.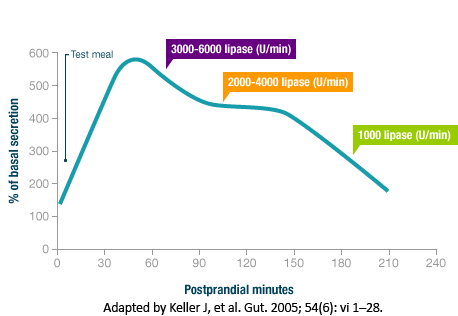 Hundreds of thousands of enzymes produced by a healthy pancreas travel to the duodenum where they come into contact with the food substrate and start to break down fats, proteins and carbohydrates into smaller molecules for absorption.
Guidelines and clinical trial data
Published treatment guidelines for chronic pancreatitis and pancreatic cancer recommend initiating patients on 40,000 - 50,000 lipase units per meal and 10,000 – 25,000 lipase units per snack6.
In a study of adult patients who required surgical procedures for pancreatic cancer or chronic pancreatitis. Patients who took less than 3 x 25,000 units of lipase per day reported the following9:
70% reported steatorrhoea
48% reported weight loss
In a different study where patients with chronic pancreatitis took Creon® doses of 80,000 units of lipase/meal and 40,000 units of lipase/snack showed improvement from baseline in:
fat and nitrogen absorption7,8
nutritional laboratory parameters7,8
clinical symptoms8
quality of life.8
If required, patients may achieve further benefit by titrating their dose up.6,10,11
References
Toouli J et al. Med J Aust. 2010; 193(8): 461-7.
Ockenga J. HPB 2009; 11(3): 11-5.
Sikkens ECM et al. Best Pract Res Clin Gastroenterol. 2010; 24(3): 337-47.
Domínguez-Muñoz JE et al. J Gastroenterol Hepatol. 2011; 26(Suppl2): 12-6.
Keller J et al. Gut 2005; 54(Suppl6): 1-28.
Imrie CW et al. Ailment Pharmacol Ther. 2010; 32(Suppl1): 1-25.
Thorat V. Ailment Pharmacol Ther. 2012; 36(5): 426-36.
Ramesh H. Pancreatology 2013; 13: 133-9.
Sikkens ECM et al. Pancreatology 2012; 12: 71-73.
Lohr J-M et al. United European Gastroenterol J. 2013; 1(2): 79-83.
Layer P et al. Curr Gastro Rep. 2001; 3: 101-108.