Diabetes
Patients with different types of diabetes mellitus frequently show alterations in pancreatic morphology and exocrine function. PEI can therefore occur as a result of long-standing type 1 and type 2 diabetes or can be related to the development of diabetes in chronic pancreatitis.1,2
In a recent audit, 24% of patients with diabetes had abnormal stools (score 5 on the Bristol Stool Chart), steatorrhoea or unexplained weight loss3
42% of symptomatic patients who provided a stool sample had FE-1 levels indicative of PEI3
One study examined the efficacy of Creon® in patients with tropical calculous pancreatitis, a form of chronic pancreatitis largely attributed to malnutrition that's prevalent in India and other Afro-Asian countries in which patients present with abdominal pain, pancreatic calculi and insulin-resistant diabetes.4

After 6 months of Creon® treatment patients achieved better control of diabetes, improvement in nutrition, and overall improvement in quality of life.4 This included a significant reduction in post-prandial plasma glucose and glycosylated haemoglobin at six months vs. baseline.4

Significant reduction in post-prandial plasma glucose and glycosylated haemoglobin at baseline vs. 6 months treatment with Creon® (total dose 8,000 lipase units)4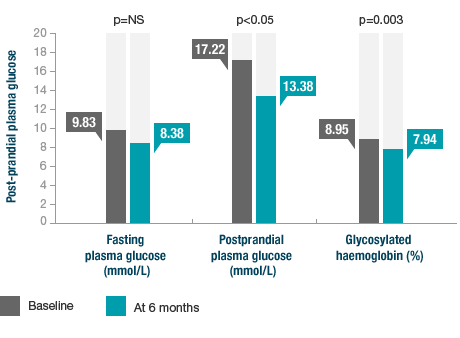 Adapted from Mohan V et al. Int J Pancreatol. 1998.
Furthermore, these patients showed significant improvements in PEI symptoms, including the following:4

Double-blind, multi-centre, prospective, 16-week study investigating the effects of Creon
®
on glucose metabolism and clinical symptoms in a group of 80 insulin-treated, diabetic patients with FE-1 <100 mcg/g. Patients received 4 x Creon
®
10000 capsules (n = 39) or placebo (n = 41) taken three times a day with main meals, plus two or three snacks with 2 x Creon
®
10000 capsules or placebo each day.
Coeliac disease
Pancreatic exocrine insufficiency can be observed in up to 40% of patients with untreated coeliac disease. In a prospective, longitudinal follow-up study of adult untreated coeliac disease patients with PEI, 90% of patients who received pancreatin were found to have significant long-term improvements in their chronic diarrhoea. This was demonstrated by a reduction in stool frequency (p ≤ 0.0001). These patients also reported subjective improvements in both consistency and urgency, and a significant symptomatic benefit.6,7
References
Hardt PD, Ewald N. Exp Diabetes Res. 2011; doi: 10.1155/2011/761950. Epub 2011 Aug 1.
Ewald N et al. World J Gastroenterol. 2013; 19(42):7276-7281
Cummings MH et al. Practical Diabetes 2015; 32(2): 54-58.
Mohan V et al. Int J Pancreatol. 1998; 24(1): 19-22.
Ewald N et al. Diabetes Metab Res Rev. 2007; 23: 386-91.
Evans KE et al. Dig Dis Sci. 2010; 55: 2999-3004.
Keller J et al. Gut 2005; 54(Suppl 6): 1–28
Lohr JM. United Eur Gastroenterol J. 2013; 1(2): 79-83.